How do I verify my account?
Well done! By signing up to become an investor, you've taken the first step to a better financial future. Now, before you can start investing, you need to complete your account verification.
When you sign up to become an investor, you have to do 3 things:
Click on each requirement for more information.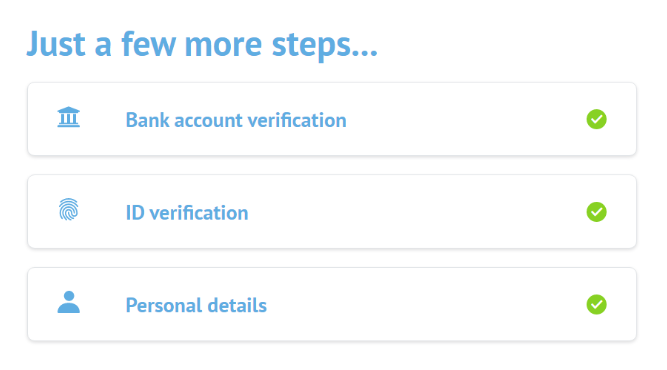 If you haven't completed all 3 steps, then we can't fully verify your account. Please ensure you've completed the entire verification process.
If you've done all 3 steps, uploaded the required documents, and completed all the required fields, it will take our verification team roughly 1 business day to complete your verification. If it's taking longer than 1 business day to get your account verified, then it means that we might have a backlog due to weekends & holiday breaks, or because some documents are missing or weren't uploaded correctly. If it's taking longer than 3 business days and you haven't received an update, please contact us via the support form at the bottom of this article so we can assist you.
The information you provide complies with the European Commission's Anti-Money Laundering and Counter-Terrorist Financing directive that protects your account, personal data, and investments. Rest assured, we will process your personal data strictly according to Bondora's Privacy Policy.
Did this answer your question?
Your feedback and inquiries are very important to us, and we're here to help you. If you need more assistance, please contact our support team by filling out this form here. Please note: We offer customer support in English, Estonian, and German.
Click or drag & drop here to upload multiple files
Allowed file types are: .jpg, .jpeg, .png, .pdf.
Max file size 5mb and max files 5.